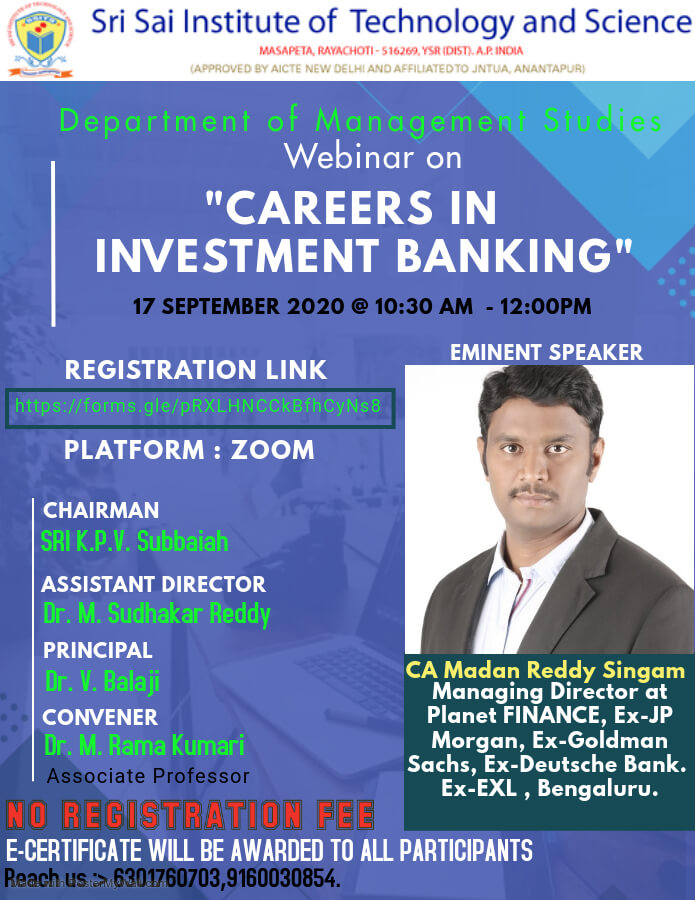 A National Level Online Webinar on Career in Investment Banking by MBA Dept
A National Level Online Webinar on Career in Investment Banking by MBA Dept
A National Level Online Webinar on Career in Investment Banking Held on 17-09-2020
The speaker CA Madan Reddy Singam has focused on the aspects to educate the students on Careers in investment banking. His version has interlinked to below criteria's and he invited the open forum session of queries and doubts. At last the consequence of the webinar session has follows in various perspectives like: A Career in Investment Banking has got everything when it comes to an interesting career: good income, reputation, strength, anxiety, and fear. However, despite continuous success, a Career in Investment Banking doesn't necessarily merit experience and hard work. It is a journey full of ups and downs, ups, and downs.
So before you decide to embark on the path of becoming a successful investment banker, first you should find out what Investment Banking is all about.
The main function of an Investment Bank is to operate as an intermediary between the companies, which want to raise the money by issuing securities or bonds and individual or institutional investors who can provide money in exchange for securities. Investment bankers handle every aspect of this process. Investment banks profit from charging rates and fees to offer such programs and other forms of financial and market advice.